What happens next?
Rebuilding the Jeep
I wanted the old school suspension but I have had enough carburators and standard transmissions.
93 parts Jeep
Initially the 93 parts Jeep provided the upgraded roll bar system, half doors, hood, right fender, dash and gauges. It also provided the fender extensions and a few minor parts here and there.
Another Jeep gives up some parts.
I'd been driving a 94 Grand Cherokee that I bought some years back at an impound auction. It will be providing a Chrysler 4 speed automatic transmission and a 242 transfer case that provides part time and full time four wheel drive. The rear axle will be used and at the very least, the front axle gears. Other items will include some battery cables and shifters for the transmission and transfer.
What was the problem with the 93 Jeep?
The 93 Jeep title was too much of a problem and I gave up on it. Also, the vehicle, abandoned for 8 or more years, had been partially stripped. Radio, speakers, battery, winch, radiator and more were gone. The rear axle was broken and a number of parts were missing. The rear of the frame was damaged when the rear trailer hitch was jerked loose, tearing the rear cross member. The soft top was long past it's usable life span. One wheel and tire was missing.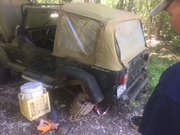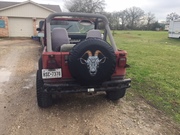 I did raise some goats for a while, but this?
My daughter, Tracy, and her family gave me this spare cover for Christmas. I had to go buy a Jeep to put it on.
The parts Jeep still has some useful parts.
The frame on the 93 Jeep has been lifted about 3 inches and the front suspension has had the shackles reversed. When a front wheel hits an obstruction it now moves to the rear instead of toward the front as originally built.
There are some pros and cons here but it is what it is. The engine is a fuel injected 4.0 liter engine with only 120,000 miles on it. I plan to use the frame, engine and wiring harness in the final changes to the 88 Jeep.