Ramcharger.net a new forum for Mopar and others
A number of off road folk are active on this forum
The forum is open to anyone. We even have a Ford owner in our group. We do tend to be Mopar related but if we can help with anything we will do our best.
Many of our members are in Texas but we have members from all over and we are growing.
We do not, at this time, plan on having an annual outing. We do plan on meeting as often a possible with as many members as possible. We realize that all members cannot meet with the Texas folk but hope to have all of our members get to meet with some folk often.
We tend to spend time at Hidden Falls Adventure Park, Marble Falls, Texas but we will be having some fun at other places too. We like Hidden Falls because of the diversity of their trails and the facilities.
Our members have Dodges, Jeeps, Plymouths and we actually lean toward Ramchargers (and Traildusters). And, we let Ernest drive his Ford too.
Join us at ramcharger.net and check out our activities and members.
Ram Jams continue
Ram Jam is a function of RamchargerCentral.Com. Most of the Ramcharger.new members are also part of that group too. We have been instrumental in Ram Jam 2012 and 2013, which were both held at Hidden Falls Adventure Park.
Ram Jams have been held in a number of places, Shiloh Ridge in Texas, Moab in Utah, Disney in Oklahoma have been a few. Ram Jam 2014 will be planned by members of RCC and will most likely be somewhere other than Texas.
Depending upon location, contests, awards and prizes are often awarded. There is usually sufficient tools and knowledge to keep trucks running for most of the trip.
Ram Jam usually has some certificates or awards for such things as ugliest truck, longest drive, tallest truck, most broke down and whatever else we can cook up. We will also award some sort of recognition to those who win any contests that we can run. Events were not possible in 2013 due to other functions at the park that included several hundred Jeeps.
Click on the photo below for a short video from Ram Jam 2008.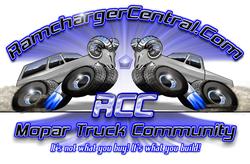 Ram Jams at Hidden Falls Adventure Park
The park is just a few miles out of Marble Falls, Texas in the Texas hill country. There are miles and miles of trails from easy to apparently impossible. There are lots of rocks and hills. The park has camping from primitive to RV rentals, 4 wheeler rentals, a gun range and its own security force. See the page for favorite links to go directly to their website.
There is also a page included that shows pictures and short videos from previous trips to Hidden Falls.
The nearby town of Marble Falls has just about anything needed, including several parts stores, restaurants, grocery stores and motels.
We had about 20 trucks show up throughout the weekend in 2012 and 10 trucks in 2013.
We have had sufficient tools to repair just about anything. Brakes, driveshafts, axles and springs are only a few of the repairs we made in the last two Ram Jams.
Events and awards
Events and awards vary and facilities will make a big difference.
Below is a video from RJ 2009. This is at Shiloh Ridge, Alto, Texas. I'm partial to the video you will see if you click on the picture below. It's my truck in the 2009 Ram Jam and this truck no longer exists, replaced by a home made Jeep (sorta).