Ram Jam 2012 - Hidden Falls Adventure Park
Ram Jam, History and today
In 1999 Sam bought a Ramcharger and needing information, built a forum, Ramchargers of Texas. Soon people from out of state wanted to be involved. The forum was changed to RamchargerCentral.Com. It may have started out slow but it grew.
As of April, 2012 there are almost 29,000 members located all over the world. The forum has evolved to deal with all Mopar trucks (and cars). Guys with obscene vehicles like chebys (Chevys) and ferds (Fords) are welcomed as well, even if we talk about their vehicles.
In 2002 RamchargerCentral.Com had its first open meeting, dubbed Ram Jam. It was held in Dawson, Nebraska and while about 60 people were expected, the attendance grew to over 300.
Ram Jams continue
There have been Ram Jam meetings every year since then. Some years have been troubled with economy downturns, weather and a number of other problems. However, we do continue to meet to see old friends, make new ones and meet the people we visit with on-line.
Ram Jams have been held in a number of places, Shiloh Ridge in Texas, Moab in Utah, Disney in Oklahoma have been a few. This year's Ram Jam will be June 1-3, 2012 at Hidden Falls Adventure Park, Marble Falls, Texas.
Depending upon location, contests, awards and prizes are often awarded. This year's prises include such items as a steel fire pit, custom radio equipment, a Ramcharger banner from one of our vendors and others.
We will have some certificates for such things as ugliest truck, longest drive, tallest truck, most broke down and whatever else we can cook up. We will also award some sort of recognition to those who win the contests that we can run.
Click on the photo below for a short video from Ram Jam 2008.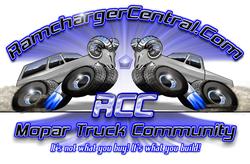 Ram Jam at Hidden Falls Adventure Park
The park is just a few miles out of Marble Falls, Texas in the Texas hill country. There are miles and miles of trails from easy to apparently impossible. There are lots of rocks and hills. The park has camping from primitive to RV rentals, 4 wheeler rentals, a gun range and its own security force. See the page for favorite links to go directly to their website.
There is also a page included that shows pictures and short videos from previous trips to Hidden Falls.
The nearby town of Marble Falls has just about anything needed, including several parts stores, restaurants, grocery stores and motels.
We had about 20 trucks show up throughout the weekend. We did have one member with a fairly severe injury as a result of some agressive driving. We hope to see Dave up and about soon.
More information about this years Ram Jam, as well as conversations about previous events will be linked in the Favorite Link page.
Events and awards
Our events and awards have been issure. Before too long I will get a list of the winners and recipiants.
Below is a video from RJ 2009. I'm partial to the video you will see if you click on the picture below. It's my truck in the 2009 Ram Jam.